Get in touch with voiceover Guy Harris.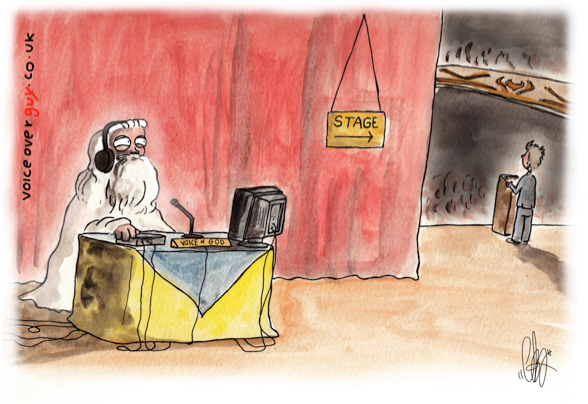 Guy Harris has a voice that is honest, warm, versatile & reassuring. You won't know him, but you will have heard him. If it's not on TV, radio, your mobile or video game, he might be trailing the latest video game or one of the characters in it. You will have heard his voice on TV maybe for Disney or kids tv commercials. Introducing kids shows at Butlins, thats him. Maybe you didn't know but Guy is Radio 1's Santa Voice.
Guy Harris is a UK based voice artist. His voice is heard around the world. So don't be surprised if you are in a Taxi travelling at break neck speed heading to your hotel in Dubai, and hear Guy on the radio telling you which mobile tariff will allow you to call for help easily and cheaply.
With over 15 years experience and voicing for some big name brands including Coca Cola, Vodafone, BBC Sport, Asda and the Apple iPhone5 TV ads. Guy is one of the UK's most in demand voices. He's even won a few of awards. Best Male Voiceover in 2011 and best spoof ad in 2012. For 2014 Guy also WON BEST MALE Voiceover at this years VOX AWARDS. Also a nominee for 3 awards at the SOVAS in L.A.
The Studio
Equipped a studio to envy lots of post production facilities, Guy can be directed via ISDN, Source Connect Now, Skype, IP-DTL and telephone. He also has one of those expensive Neumann U87 and MK416 microphones.
Production
We work with an award winning producer and composer Colin McGinness. If you need production elements for your event, click here to find out more.
Guy Harris
Guy will work with you to make sure you are 100% happy with your voiceover. If you are not happy, moan too much, bad mouth him on Twitter or don't pay then things can get pretty ugly. There have been many clients that just… disappear.
Guy has worked for us on many occasions as his voice is perfect for so many applications, he is professional and always follows direction. It's always a pleasure to work with him.
Phil Peacock
Guy Harris has been a regular Voice of God at a number of events for our client Reward Gateway and also features at the annual Benefits Excellence Awards. His efficiency, accuracy and speed never fail to amaze me and I can't recommend his services enough!
Phil Miller
Awesome Events have utilised Guy's supreme service for the last couple of years and we have found his professionalism to be outstanding and his ability to always deliver has assisted us with the planning of hundreds of events and conferences.
Denis McCourt